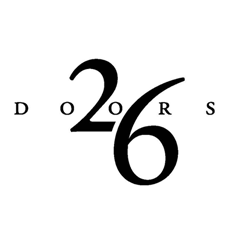 An Austin Original
Whether you're looking for fabulous food, gifts, original toys or clothing, it can be found at 26 Doors, located in the heart of mid-town Austin. Come shop, dine or visit and enjoy the casual atmosphere that 26 Doors has to offer.
Shopping/Dining
Contact Us
The year was 1976. Mopac was a new highway, north of Research Blvd and south of Ben White were mostly farm and ranch land. Austin music was happening around Sixth Street and the Armadillo World Headquarters was still going strong.
This was the scene in Old Austin when Scott and Linda Storm opened the adobe-styled shopping center at the corner of 38th Street and Medical Parkway. The courtyard was decorated with artifacts from central Mexico: ox-cart wheels, carved stone bocks and pottery. But the signature features of the center were the twenty six 200-year old hand-carved wooden doors that adorned each of the shops. It is from these doors that the center took its name: 26 Doors.
Most of the original doors and all but one of the original shops have changed over the decades. However, the comfortable feel of Old Austin remains.
Contact Us
1206 W. 38th St., Austin, TX 78705
For general information regarding 26 Doors Shopping Center, contact Belva Green at DT Land Group, Inc. (512) 338-9222, ext. 14 or e-mail us.
For leasing information regarding 26 Doors Shopping Center, contact Bryan McMurrey at C.B. Richard Ellis (512) 482-5582 or e-mail us.
Copyright 2020 26 Doors. All rights reserved.